Buy Discount Prescription Drugs Online
Enjoy a great discount on prescriptions when you order from Drugmart.com. Our Canadian prescription drugstore has hundreds of medications. We're able to offer you discount prescription drugs with incredible savings, thanks to reputable suppliers located in the United Kingdom, Canada, New Zealand, Australia, India and Mauritius. Orders are processed in Canada and shipped to your door – and when you order our prescription drugs, delivery to the U.S. is free! We have a fully staffed team of customer service representatives who can help you with any questions you may have. Find your prescription here and start saving when you order online prescription drugs from Canada!
Browse by letter:
---
Prescription Drugs Beginning with "I"
We Make Buying Prescriptions From Canada Easy
Let Drugmart.com do the heavy lifting. We source discount drugs from reputable pharmacies worldwide. Of all the Canadian prescription services, our customers know they can count on us to provide reliable, affordable discount prescription drugs. Our outstanding team of customer service agents works to ensure you're completely satisfied with your online prescription drugs ordered through Canada.
How to Find Your Prescription Medication
Just search for the brand name of your prescription. You can browse our discount pharmacy drugs by the first letter of the drug's name or use the search bar to find your prescription medication. When it comes up, you will have the option of purchasing the brand name or generic version of your medication if it's available. For example, to get discount Proloprim, you'll see your best option is the generic equivalent called Trimethoprim.
Canadian Prescription Services Beyond the Pills
It's no secret that Drugmart.com has discount prescription drugs for a whole variety of ailments. But did you know that you can also find prescription drugs that don't come in pill form? For instance, asthma sufferers will find relief in our discount Symbicort inhaler. Those with diaphoresis will be pleased to see that we offer discount DrySol Anti-Perspirant. And if you're suffering from acne, note that you can buy discount Retin-A Cream (also known as Tretinoin).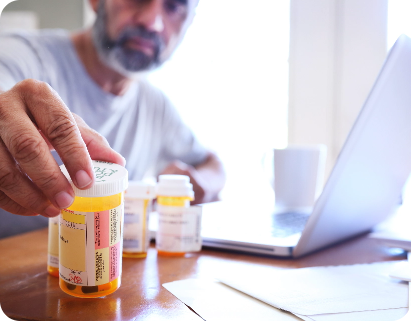 Answers to Frequently Asked Questions About Discount Prescription Drugs
Following are some common questions we've received about our Canadian prescription services. If you have additional questions, you are welcome to chat with us online or contact us by phone or email. We'll be happy to answer your questions and can refer you to a pharmacist if you have specific questions about your medication.
Is a Prescription Required for Discount Pharmacy Drugs?
If you want to order prescription medication, you will need to provide a valid prescription written by a medical practitioner who is licensed to practice in your area of residence. The prescription you give us must be written in English and supplied via fax or email (with a scanned copy of your prescription as an attachment). You will also be required to forward the original copy of your prescription by regular mail.
Is it Safe to Fill an Online Prescription in Canada?
You may initially be concerned about ordering prescriptions from Canada. But as our customers have discovered, filling an online prescription from Canada enables you to get discount prescription drugs that are just as effective as the medication you buy at your local pharmacy – at significant savings.
Do You Offer Non-Prescription Medication From Canada?
Yes, we offer many over-the-counter products such as pain relievers, vitamins and eye drops. We also have testing supplies for diabetes patients. When you order from Drugmart.com, you'll enjoy great savings on these non-prescription drugs and supplies (and get free shipping to any address in the United States).
Is Insurance Accepted for Discount Pharmacy Drugs?
We have not arranged for prescription medication coverage with health insurance or prescription benefit management (PBM) companies. We can supply you with a medical expense report so you may file an insurance claim with your provider, if applicable.