Browse Mail-Order Medication By Category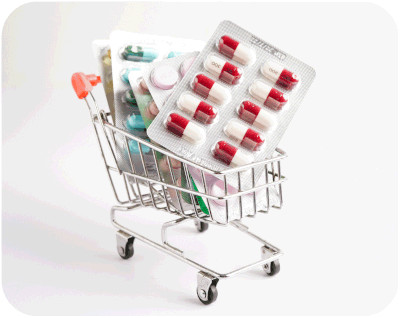 As prices for prescription and non-prescription drugs continue to rise, more Americans seek affordable mail-order medication to help circumvent soaring prices. That's where we come in. Drugmart.com makes ordering drugs from Canada and other Tier 1 countries more accessible than ever before. With more than 180 distinct categories of drugs available, our referral service can help those suffering from ailments of all types buy medication online at deeply discounted prices. That way you pay far less than what your local pharmacy charges.
The healthcare system in America allows market competition to dictate pricing, leading to ever-rising costs as manufacturers seek to maximize profits. We operate out of Canada, and source our products from Tier 1 countries exclusively where drug prices are regulated to ensure every citizen can afford the medication they need to stay healthy. That's why, when you purchase meds online through our services, you pay Canadian and Tier 1 country prices for the same name-brand and generic drugs you trust. Browse our entire selection of mail-order medication below. You should have access to the same affordable drugs as the rest of the world. Buy medication online from Drugmart.com today.
Filter Conditions by Letter Clear
Order Medication Online at Drugmart.com
Canadian prescription referral services like ours provide meds by mail at Canadian prices. Our services offer customers direct access to thousands of mail-order medications through contracted pharmacies in Canada and other Tier 1 international providers, located in Australia, the United Kingdom and New Zealand. Our global network of government-approved pharmacies allows our customers to order medication online at prices that cannot be matched by retail outlets in the U.S.. Ordering drugs from Canada is fast, simple and incredibly easy. Just navigate to one of our 180+ categories to find your meds online. With a few simple clicks, your over-the-counter or prescription drugs will be on their way to your doorstep.
We Offer Thousands of Meds By Mail for Your Specific Needs
At Drugmart.com, we carry an extensive selection of brand-name and generic drugs year-round to ensure you always have the mail-order medication you need. When ordering drugs from Canada through our website or by phone, you'll notice that our extensive network of Tier 1 pharmacies keeps inventories stocked at all times. That way, you're more likely to find what you need, when you need it.
Whether you're looking for seasonal relief from colds and flu or allergy medication, if you need to fight infection with prescription antibiotics or require a consistent regimen of mail-order medication to combat a lifelong illness like COPD, Drugmart.com ensures your drugs are stocked and available. Don't wait for your local pharmacy to restock its shelves. You can order meds by mail right now.
Ordering Drugs From Canada Is Fully Confidential to Protect Your Privacy
When you buy medication online from Drugmart.com, you get unrivaled privacy and confidentiality with every order. Customers ordering meds online get to do so from the security of their own homes, meaning you'll never have to reveal your conditions to anyone. Like a traditional pharmacy, the only ones to see your mail-order medication are the professionals hired to fill your prescription. We also utilize industry-standard security measures, including SSL (Secure Sockets Layer), so any account information submitted to us is safely isolated from unauthorized access. Ordering drugs from Canada through Drugmart.com ensures your data is protected at all times.
Frequently Asked Questions About Ordering Drugs From Canada & Other Tier-1 Countries
If you want to save money by ordering drugs from Canada and other Tier 1 countries, you may have more questions about how our services work. Check out the answers to our frequently asked questions below for more information.
Do I Need a Prescription to Buy Meds By Mail?
If you're ordering prescription meds online, yes. All of our partnering pharmacies require a valid prescription written by a licensed medical physician in your area of residence to receive your meds by mail. All prescription information must be written in English.
How Much Medication Will You Supply When I Buy Meds Online?
Our partner dispensaries can provide our customers with a personal three-month supply at a time. When you first buy meds online, your patient profile will keep track of your remaining refills so you can order again when needed.
How Long Will It Take My Mail-Order Medication To Arrive?
Prescription mail-order medication is typically shipped within one week of receiving payment. Over-the-counter medications are usually shipped within three business days. Once shipped, meds by mail typically arrive on your doorstep in two to four weeks. U.S. postal addresses must be deliverable by the USPS.
Buy Mail-Order Medication Online at Drugmart.com
If you can't afford the medication you need at your local pharmacy, choose a better option with mail-order medication from Drugmart.com. Our services are purposefully designed to ensure everyone can access fair drug prices, regardless of location. When you buy medication online from our website or by phone, you get your treatment month after month for a fraction of the cost. Ordering drugs from Canada has never been simpler than through Drugmart.com – take advantage of everything we offer today!